Région

Auvergne-Rhône-Alpes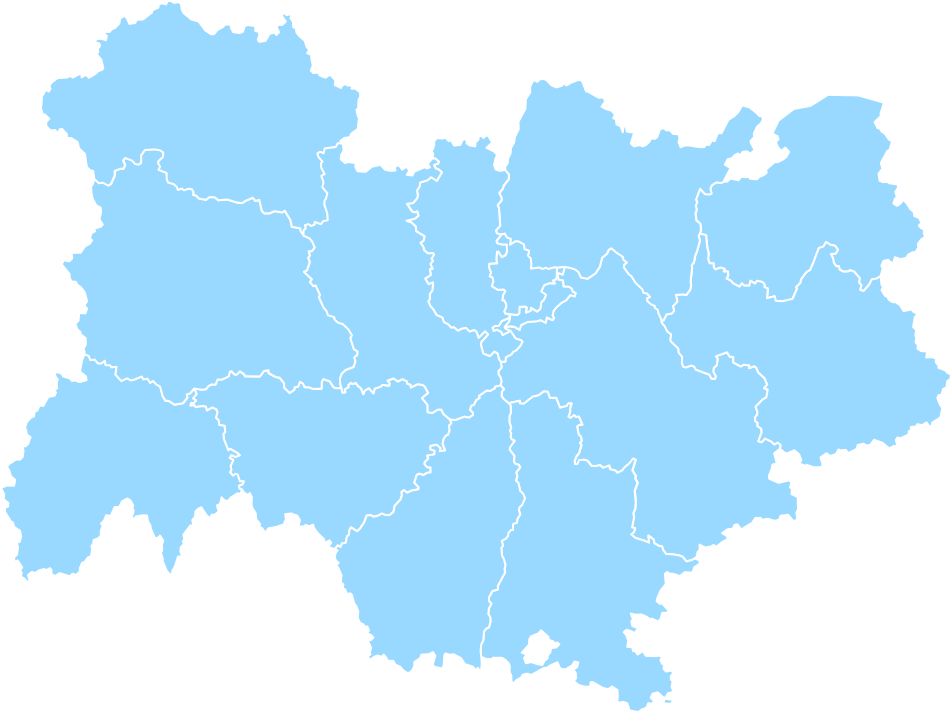 A major region for livestock and processing
The French region with the largest number of food-industry businesses, Auvergne-Rhône-Alpes stands out for the quality of its production, with organic farming on the increase.
Produce is also well-established, with fruit – it is the second region for fruit production,1 vegetables and cereal crops, as well as regional specialties like lentils (with the "Lentille verte du Puy" (green lentil from Le Puy) AOP); walnuts (with the Grenoble walnut AOP); chestnuts,2 which also benefit from a dedicated AOP,3 and truffles, which are grown on over 3,600 hectares (approx. 9,000 acres), for an estimated annual production of 27.7 tons.4
As the region with the largest number of food-industry businesses in France, the sector records annual revenue of €10 billion.5 The food industry has two main cornerstones: the meat sector, which generates annual revenue of €2.8 billion (including 5.3% from exports)6 and the dairy sector, with annual revenue of €1.9 billion (including 20% from exports).7
With substantial milk production,8 the Region supplies 42% of the nation's tonnage in AOP and IGP cheeses (2018) and has no less than 17 appellations, including Bleu d'Auvergne, Beaufort and pressed raw-milk cheeses, like the famous Reblochon and Saint Nectaire.
With such world-renowned appellations as Côtes du Rhône and Beaujolais, which has 12 AOCs, the wine sector9 sells 310 million bottles a year – including 40% abroad.
Globally, the Region's food industries export mainly to Europe, Asia and North America.
Although Auvergne-Rhône-Alpes is currently the region with France's second-largest surface of land under organic farming,10 its goal is to take over the top slot. In 2021, it expects to increase the number of organic farmers by 30%.
In order to encourage development of small- and mid-sized food-industry businesses' presence on international markets, the Region is committed to subsidizing businesses that recruit through the Volontariat International en Entreprise network for 12 months minimum (50% of costs). Lastly, to help those businesses participate in international trade fairs individually, the Region distributes financial aid: 50% of expenses, capped at €5,000 per trade fair.
Consult the Regional specialties map

1 – The Region counts nearly 30,000 hectares (75,000 acres) of orchards and some 7,000 fruit farms; Source: Auvergne-Rhône-Alpes Chamber of Agriculture
2 – With over 3,000 hectares (7,000 acres) and 4,500 tons of fruit grown in 2017; Source: Auvergne-Rhône-Alpes Chamber of Agriculture
3 – AOP Châtaigne d'Ardèche (Chestnuts from Ardèche)
4 – Auvergne-Rhône-Alpes Region, Region Truffle Sector Plan
5 – 6th region in France; Source: The Auvergne-Rhône-Alpes Business Regional Economic Agency
6 – Interbev (livestock and meat Inter-professional organization) Auvergne-Rhône-Alpes Businesses
7 – Agreste (Rural) – Auvergne-Rhônes-Alpes the dairy-cow sector, June 2020
8 – 2.7 billion liters (700 million gallons) of cow's milk a year
9 – The sector generates €586 million in revenue; Source: Auvergne-Rhône-Alpes Chamber of Agriculture
10 – with nearly 206,000 hectares (515,000 acres) under organic or in transition